The Rhine figures among the most important shipping lanes of the world and is the most important shipping lane in Europe. Annually, more than 300 million tons of goods are transported on the navigable Rhine between Rheinfelden/Switzerland and the North Sea. 200 million tons are transported on the section called the traditional Rhine between Rheinfelden and the German-Dutch boarder.
Compared to other means of transport, inland navigation is rather environmentally friendly. Nevertheless, inland navigation still directly and indirectly contributes to deteriorating the ecological state and water quality of the Rhine. In 2007, the Ministers in charge of the Rhine charged the ICPR to co-operate with the Central Commission for Navigation on the Rhine and to inform of the risks of deliberate or accidental losses of pollutants from the inland navigation which continue to be recorded (see figure below).
As the handling and the disposal of waste is a matter that is being regulated from the land and with appropriate national infrastructure, rules (CDNI; see the movie) have been established for the various parties concerned by inland waterway transport. These rules envisage to:
encourage the prevention of waste generation.
canalise the disposal to the dedicated waste reception facilities along the waterway network.
ensure adequate funding in view of the "polluter-pays principle".
facilitate compliance with the prohibitions of discharge of the waste into surface water.
Further effects of navigation comprise the effects of lapping of waves on river bank biocoenosis, the formation of whirls caused by ships' screws making water artificially cloudy and swirling up sediments as well as the spreading of exogenic animal and plant species.
The 800 km of Rhine between the North Sea estuary at Rotterdam and Basel/ Rheinfelden have been trained for inland navigation. Due to river training for navigation and use of hydropower since the mid-19th century, the natural floodplain of the Rhine has been reduced to 15 per cent of its original size and ecological patency has been affected.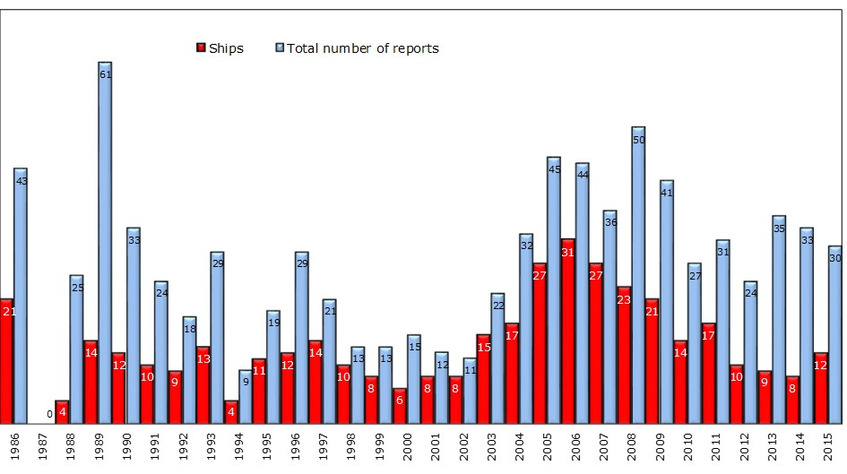 that the point "zero" of Rhine kilometre marking starts at Konstanz on Lake Constance?
It ends at the mouth of the Rhine in Rotterdam/Netherlands.
that, since Roman times, the Rhine has been an important shipping and trading lane?
Today, the Rhine is the cheapest and thus most popular transport route for mass goods and container ships.